The Institute of Printing Technology, Chennai, the oldest institution in India for training printing technologists, has many firsts to its credit in the matter of printing education in this country. It has grown from a small section in a Trades School to a major printing institute in India, The Institute almost symbolises every stage of the growth of graphic arts education in India.
The year 1926 is the most significant year for graphic arts education in India, for it was in that year, the foundation was laid for the training of printing craftsmen and technicians by starting a printing section with some types and equipment in the Madras Trades School and starting evening classes in printing.
It was in 1927, a regular training programme of a four-year part-time certificate course was started for the employees and apprentices in printing presses, to impart both theoretical and practical training in Composing, Machine- minding, and Binding. The classes were conducted in the evenings.
This was the first ever organised course to be started gor the printing trades in this country.
The Madras Trades School, which was the first technical training institute to be set up by the Goverment of Madras, in the year 1916, was already conducting courses for personnel inthe engineering trades, like civil, electrical and mechanical.Printing become an additional course in 1926. Printing was thus one of the sections of the Goverment Trades School from, the year 1926, printing was one of the selection of the Goverment Trades School Fromthe year 1926,thus in addition to the engineering sections
The Madras Government Press at Mint and the Railway Printing Press at Royapuram, which were under the charge of British Superintend- entsin days, lent their services besides" Sending their experienced officers to the school As Visiting Lecturers And Thus Helped it mainly in conducting the classes
The Pioneers :
Those who served as visiting lecturers in printing, for both theoretical instruction and practical training, were really pioneers of printing education in India. Hard and valiant were the efforts of those pioneers to make the training as best as possible when there was no other guidance available to them. They were both Indians and Englishmen, who combined themselves to give the best of their knowledge and experience to all those who sought them.
Mention must be made of the following, who were the first set of experts to serve as printing teachers in the Madras Trades School :
A. Lepper, Superintendent, Government Press.
A. G. Anderson, Deputy Superintendent, Government Press. (Senior Machine Lecturer)
T. K. Narayana Iyengar, Assistant Superintend-ent, Government Press and author of Madras Government Press Manual & Printing Manual.(Printing Lecturer)
Lt. Col. W. E. Marsh, Superintendent, Railway Press. (Senior Printing Lecturer)
H. D. MacDonald, Assistant Superintendent, Railway Press. (Machine Lecturer)
S. Appadurai Pillai, Assistant Superintendent, Government Press and author of Printers' Arithmetic and Imposition. (Composing Lecturer)
M. J. Magimai Das Mudaliar, Personal Assistant to Superinten- dent, Government Press. (Asst.Composing Lecturer)
M. D. Krishnaswamy, Head Proofreader,Government Press. (Composing Demonstrator)
A. Seeyalam Mudaliar (Machine Demonstrator)
S. Ganapathy (Composing Demonstrator) PT, Sabapathy Mudaliar (Binding Lecturer)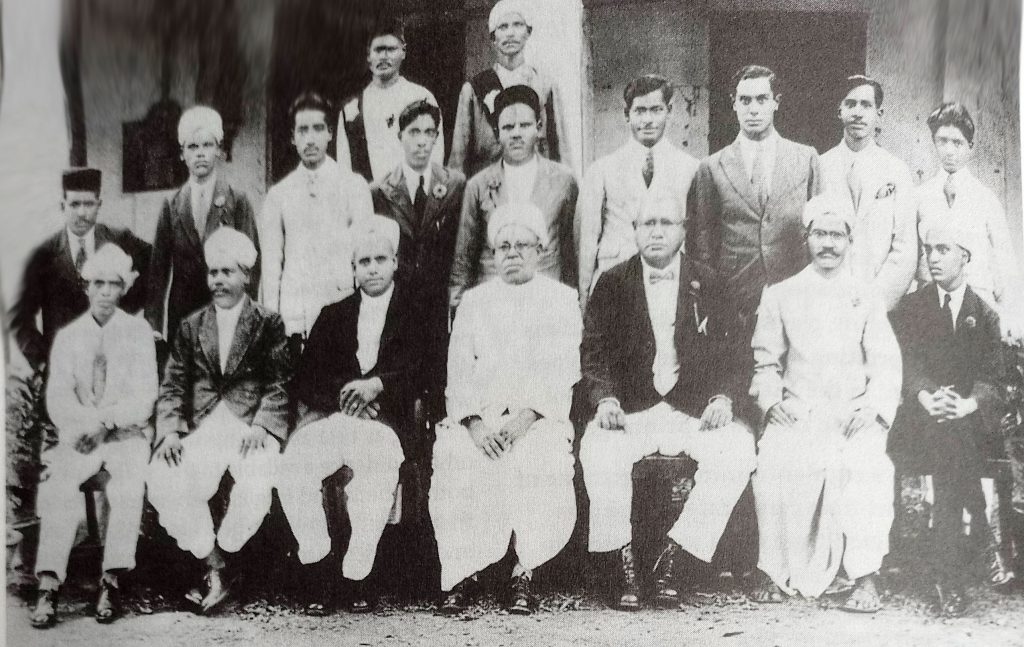 This is the earliest photograph available with us, taken in 1928, showing pioneer teachers of printing technology (from left to right sitting) : M. D. Krishnaswamy, S. Appadurai Pillai, M. V. Jagannatha lyengar, (Senior Lecturer of Trade School), T. K. Narayana lyenger, M. J. Magimaidas Mudaliar, A. Seeyalam Mudaliar, and S. Ganapathi.
This photograph taken in 1933 shows, another group of pioneer teachers : Second from left to right (sitting); P. T. Sabhapathy Mudaliar, W. E. Marsh, A. G. Anderson M. V. Jagannatha lyengar, Principal, Govt. School of Technology.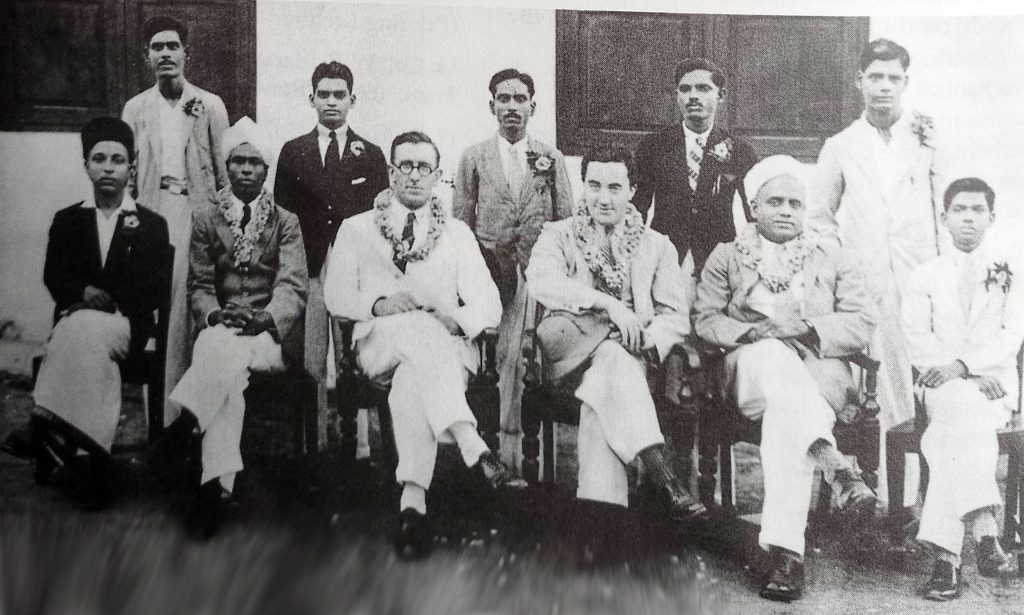 The first technical institution in the South :
The institution where Printing Technology Course was started in 1926 was opened during the time of Sir Charles Innes, |.c.S., the then Director of industries, on the 4th December 1916 as 'The Madras Trades School', for the Mechanical Engineering Apprentices and Plumbers only, with a strength of 20 students in each of the two courses. This was the first technical institution to be started in South India. The institution was housed in a rented building and the members of the staff were all part-time lecturers. Mr. N. M. Adyanthaya was appointed as the first full-time Superintendent. The designation of this post was jater changed to that of principal and Mr. N.M. Adyanthaya became the first Principal of this institution. The students who were admitted into the Trades School had to be bona fide apprentice in a factory where they acquired practical training and theoretical instructions were given in the School.
1931-32 : First Development Govt. School of Technology :
In 1931, the Madras Trades School changed its name to "Government School of Technology'. The next milestone covered was in 1932 when four students who successfully completed the four-year course had the distinction and honour of being sent to the London School of Printing for training. Thus Madras set up a tradition in this country not only for imparting sound technical training but also for promoting higher studies overseas. On returning from London these four students were immediately absorbed as Junior Officers in Government Press, Madras.
These four officers who had a very distin- guished official career were :
Mr. K. P. R. Monon, who later joined the United Nations as Technical Officer in Printing And later retired as Administrative Officer.
Mr.R.Siddique, who later retired as the First indian Superintendent of Government press,Madras.
Mr. G. F. Amalnathan, who later served Andhra Pradesh and Kerala Government Presses as Press Superintendent.
Mr. J. W. Halge who later went to Uttar Pradesh and retired as Superintendent, State Government Press, Allahabad.
1937 : Starting of Diploma Course :
The year 1937 is the next important year in the history of printing education in India, and for the Institute in particular. The students of the Printing Technology Certificate Course in that year under the leadership of Mr. Chandy Kurien, Third-Year Student mustered courage and pleaded with the Government to change the Printing Certificate Course into a Diploma Course similar to the Engineering Courses. Late Rajaji was the then Chief Minister of the first popular Madras Government. Rajaji called for certain particulars, syllabus, etc., about the course to convince himself that the training given here was of a high order deserving a Diploma. Only when all the particulars were furnished to his full satisfaction, he ordered the conversion of the 4-year Certificate Course in Printing into a 5-year Diploma Course. The Government order was contained in G.O. No.2768 of 1937.
The students in the Final Year Certificate Course in 1937 automatically went to the extended Fifth year in 1938, and sat for the Diploma examination in Printing Technology conducted for the first time in April 1938. It was in 1938, the Technological Diploma Examination Board was constituted by the Government which became responsible for conducting all Diploma examinations in Engineering and Technology.
1937-38 : First Batch of Printing Technology Diploma holders
Four printing students came out successful in the first Diploma Examination in 1938 and thus became the torch-bearers for the hundreds of Printing Diploma holders to follow them in the years to come. Licentiate in Printing Technology (L.P.T. in short), the Diploma became a by-word for excellently-trained printing technologists and continued to be the only Diploma in Printing in the whole of India till 1958, when
The First Batch of Students who have been awarded the L. P. T. (Licentiate in Printing Technology) Diploma by the Government of Madras (first of its kind in India) for a Five Years' Course at the Government School of Technology, Madras.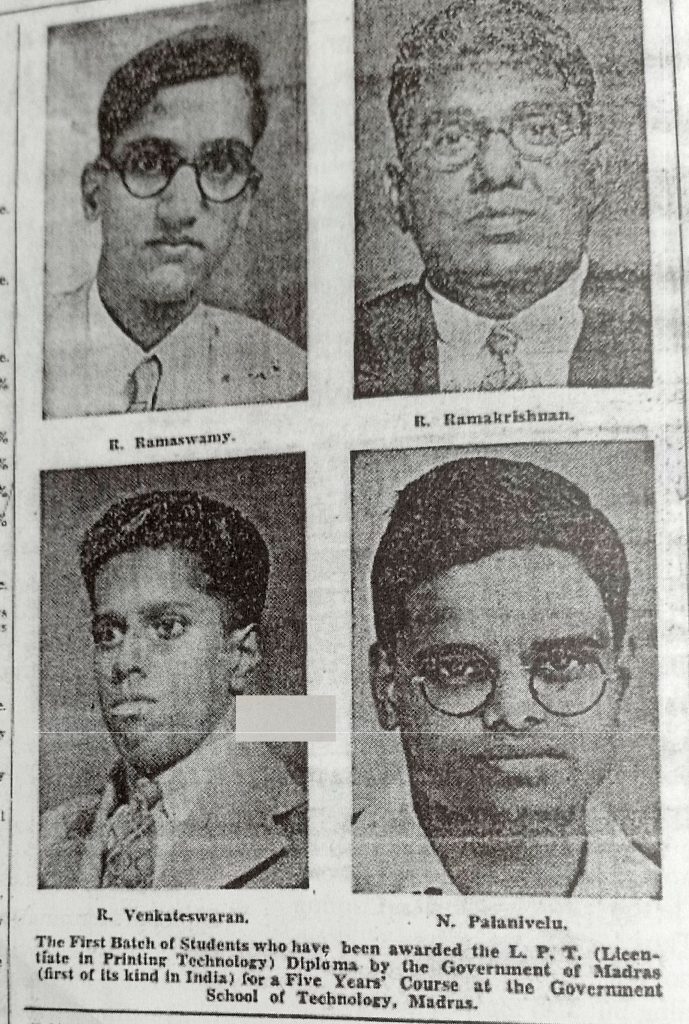 Three other Regional School of Printing also started awarding Diplomas in printing.
The first four students who came out successful in 1938 were:
Mr. R. Venkateswaran, (Managing Director,United Printers Syndicate Private Limited), who became the President of the All India Federationof Master Printers, the first and only technologist of the Institute to hold this prestigious office.
Also the first diploma holder to become the President of Madras Printers' and Lithographers' Association, Madras.
Mr. R. Ramaswamy, who rose to the highest post of Manager, Government of India Press, and retired as Manager, Dewas Currency Note Press.
Mr. N. Palanivelu, who joined Southern Railway Ticket Printing Press and reached the top position as Superintendent of the Press.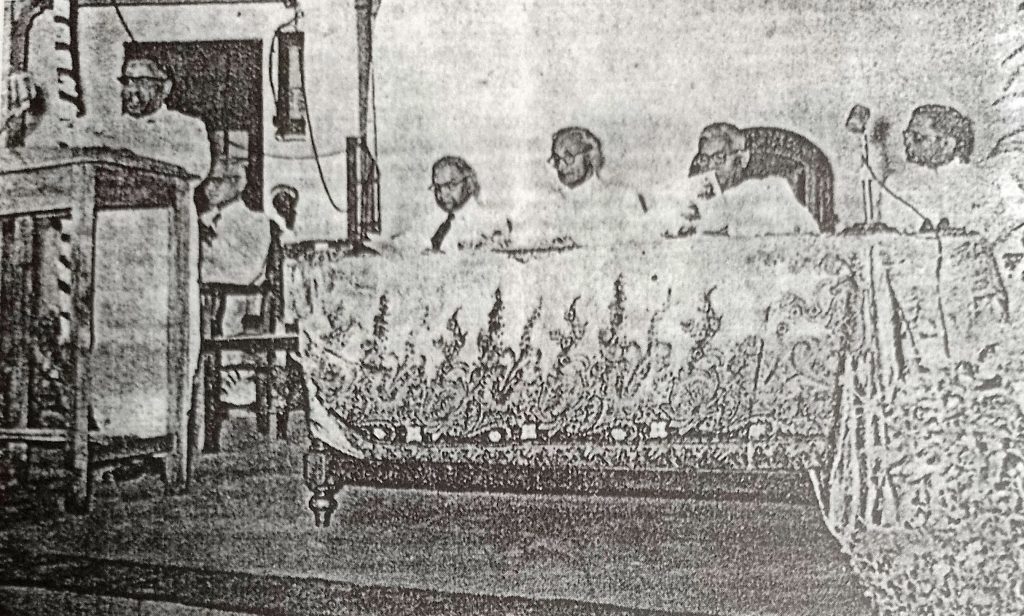 Inauguration of First Regional School of Printing in India at Madras. Picture shows Digniteries on the occasion of Inauguration of RSP in August 1955. Left to right : Mr. S. Aruldoss, then Joint Director of Industries &Commerce is addressing the printing audience. Behind him Mr. V. M. Philip, Mr. S. Viswanathan, founder-member of Madras Printers' and Lithographers' Association, Mr. C. G. Reddy, Secretary to the Dept. of Industries & Commerce,Honourable Minister Mr. M. Bakthavatsalam, and Mr. T. K. Palaniappan, Director of Industries.
Mr. R. Ramakrishnan, who joined the Government Press, Nagpur and passed away during service as Assistant Superintendent of the same press.
1946: A Significant Development Introduction of Full-time Diploma course :
The next significant event in graphic arts education took place in 1946. It was in this year that the Government School of Technology was renamed as the 'Central Polytechnic and along with the change in name, a new Full-time threeyear Diploma Course was started in addition to the existing five-year Part-time Diploma Course. More full-time teaching staff were employed and equipment worth Rs. 2 lakhs were also purchased. Simultaneously, two parttime Certificate Courses of two years each were also conducted for craftsmen employed in presses, one in Composing & Proof-reading and another in Machine-minding & Binding. Thus the first major expansion programme of the Printing Section began in the year 1946.
1954 : Plans for Starting Independent Printing Schools in India :
The year 1954 marks another epoch in graphic arts education when the Government of India decided to intensify craftsmen training programmes in the graphic arts and allied industries. The All India Council for Technical Education made certain recommendations to start four Regional Schools of Printing Technology in important centres in the country. As part of their recommendations, the suggestion of the Government of Madras to develop the Printing Section of the Central Polytechnic into an independent Regional School of Printing for the Southern Region with reservation of seats for each State of Andhra,
Kerala and Mysore was accepted by the Government of India:
The Specialists Committee of the All India Board of Technical Studies in Graphic Arts and Allied Technology prepared a comprehensive scheme of studies to be followed by the four Regional Schools of Printing.
1955- Inauguration of First Regional School of Printing in India at madras :
With the approval of the Government of India, the first Regional School of Printing in the country was inaugurated on the 8th August 1955 at Madras by the Honourable Thiru M. Bakthavatsalam, the then Industries Minister. The inauguration of the institution was marked by the starting of nine specialised part-time All India Certificate Courses in addition to the existing two Diploma Courses, full-time and part-time.
The staff position was strengthened by the addition of seven Lecturers and six Demonstrators in specialised fields of printing technology. As part of the development programme, Government of India approved the proposal of All India Council for Technical Education for the purchase of additional machinery and equipment on a major scale, particularly for thenewly created departments of Lithographic Platemaking and Printing, Graphic Reproduction and Mechanical Composition.
To mark the inauguration of the Regional School of Printing, on 8th August 1955, an ( Original Heidelberg Automatic Platen Machine was presented as a gift to the Institution by the local agents, The East Asiatic Co. (India) Ltd., which Was switched on by Thiru M. Bakthavatsalam.
The Cerntral and the State Governments agreed to share both capital and recurring expenditure consisting of officials and non-officials as well on a 50:50 basis. An Advisory Committee as representatives from the industry was constituted to meet periodically and advise on the progress and development of the) Institutio agreed its working.
1957 : Formation of Directorate of Technical Education :
In 1957, the Institution which was functioning under the Department of Industries and Commerce came under the control of the Director of Technical Education when the Department of Technical Education was formed, to promote technical education in the State on a wider scale.
1958: The first Principal of the Regional School of Printing In 1958, the Central Polytechnic shifted to its new premises at Guindy and the old building a Pophams Broadway was harnded over to the Regional School of Printing for its full occupation and development as an independentinstitution. Thiru V. K. Sriramulu, then Head of Printing Section was appointed to take over charge as the first Principal.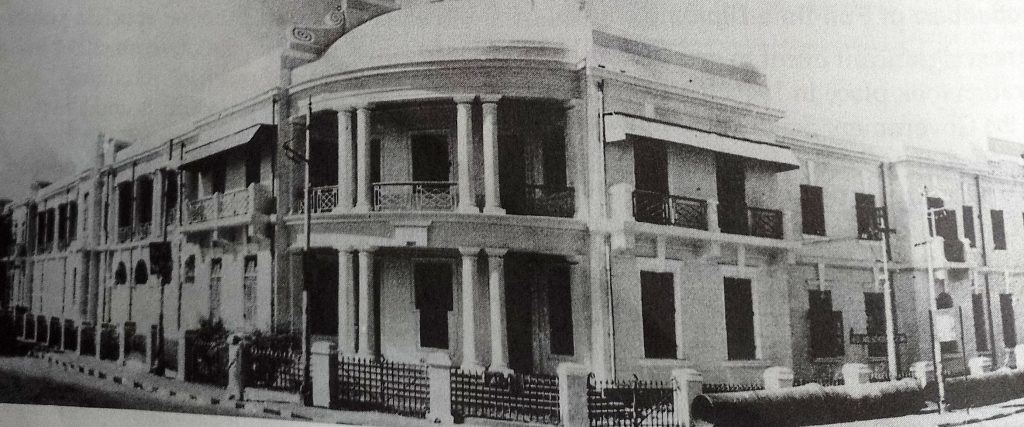 1959-60: New Full-time All India Certificate Courses :
In 1959-60, five full-time All India Certificate Courses, each of two years' duration, were started for candidates with a pass in S.S.L.C. bringing the total number of courses offered to 16 with a strength of 384.
In 1959 March, a Polygraph AutomaticCylinder Machine was presented by the Polygraph Export of the German Democratic Republic which was switched on by Thiru K. Kamaraj, the then Chief Minister of Madras.
1960-61 :Introduction of First Lithography Diploma Course in India :
The academic year 1960-61 saw yet another major addition to the courses of study:
Lithographic Printing' was made a full-time Diploma Course of three years duration, with separate syllabi and examination schemes. Diplomas also were separately issued as LP.T. (Letterpress) or LP.T. (Lithography). The Diploma Courses attained the status of National Certificate Courses, by the decision of All India Council for Technical Education. The year 1960 also saw the formation of the Institution's National Cadet Corps (N.C.C.) Rifles Unit and Mr. B. Chandasekar a faculty member was selected to undergo precommission training at Kamptee N.C.C. Officers' Training School.
1963: First Phase of Modernisation :
In 1963, the first batch of diploma students trained in Lithographic Printing completed their course. The Government of India Practical Training Stipendary Scheme (of Rs. 100/- per mensem for a period of one year) was given to 27 passed out students that year.
An International Calender Exhibition was conducted for the first time in Madras under the auspices of the Madras Printers' Lithographers' Association in the School premises.
During 1963, two of our faculty members, Mr. R. Narayanan and Mr. K. Balasubramainan were selected and sent for advance training in printing technology as well as pedegogy to the Federal Republic of Germany for a period of three years.
The years between 1958 and 1963 marked the first phase of modernisation of equipment. A number of machines and equipment required for all the departments were installed during this period, making the institution selfsufficient in both letterpress and lithographic fields.
The following items of modern equipment were added to the existing ones in the School during 1963 : A Quad Crown Two-colour Planeta Offset Printing Machine worth Rs. 2 lakhs, an Intertype Line Composing Machine with many special attachments, anda latest Perfecta Guillotine Machine. A number of precision instruments to aid quality control training and for the study of Photography were also bought this year.
1968 : Shifting to New Premises at Adyar :
The next major development in the history of the Institution is the shifting of the Institution from its old premises at Broadway to the newly constructed modern building costing over Rs. 10 lakhs in the Central Institutes of Technology Campus at Adyar. The machinery and equipment were shifted in record time in July 1968 with the co-operation of students and staff of the Institution and engineers of Printing Machinery firms.
1971 : Introduction of Production-cum-Training :
In the middle of 1971, a Production-cumTraining Wing was started in the Institution, mainly with an idea to improve the practical training of the students on actual production jobs and to make the course more job-oriented. Thiru V. S. Krishnamurty, then Head of Section, was first made as the Special Officer-in-Charge of the Production Wing in July 1971 and later Thiru A. D. Buchi Babu, who was then an Assistant Works Manager, Government Press, took over as Special Oficer in November 1972.
1972: Printing Technology Committee formed by Centre :
After putting in a service of 25 years Thiru V. K. Sriramulu, the first Principal, retired on 15th July 1972. Thiru V.S. Krishnamurty, the Head of Section, took over charge as Principal.
The Indian Society for Technical Education nominated Thiru VS. Krishmanurty, to be a member of All India Board of Technical Studies in Applied Art, Ministry of Education and Social Welfare, Government of India. At the first meeting of the Board held in New Delhi in July 1972, a Printing Technology Committee was constituted to draw up plans for the development of printing technology education during the Fifth Five-Year Plan.
The first meeting of the Printing Technology Committee, consisting of the Principals of four Regional Schools of Printing and leading members of the Printing Industry representing All India Federation of Master Printers, from all over India, was held at Madras, under the Chairmanship of Prof. V. N. Adarkar, on 19th and 20th October 1972. Thiru P. Sivalingam, Director of Technical Education, hosted the meeting at the office of the Directorate.
After two days of deliberations, the Committee accepted in principle certain broad plans for not only developing the four Regional Schools of Printing but also for setting up an Institute for Research and Development in Printing at Madras, for which the Director of Technical Education offered full co-operation including land in the sprawling C.I.T. Campus at Adyar, where all the infrastructure for such a Research Institute was available.
At the conclusion of the meeting of the Printing Technology Committee, two Expert Committees were constituted to prepare specific blue prints, for (1) the development of Regional Schools of Printing and (2) the setting up of a Central Institute for Research in Printing Technology. This meeting is of great significance because this was the first time that a plan for setting up a research institute for printing was considered and a decision taken at the Government of India level.
Education is not the finformation that is put into your brain and runs riot there, undigested, all your life. We must have life-building, man- -making, character-building assimilation ideas. If you have assimilated five ideas and made them your life and character, you have more education than any man who has got by heart a whole library.
1973 : Major Role played by Regional School of Printing :
The Expert Committee for the development at the Regional Schools met at Madras in Anril 1973 and prepared a general plan for the
Development of the four Schools of Printine an:
Drew up certain broad guidelines regarding the new courses to be started, setting up of production centre in each institute, faculty development, provision of additional physical facilities like building, machinery and equipment, and additional staff for teaching and production wings. The Committee recommended a capital expenditure of Rs. 55 lakhs and a recurring expenditure of Rs. 3 lakhs per annum for implementing the plan.
The Regional School of Printing, Madras can take a legitimate pride for playing a major role in conducting the above meeting and for drawing up the plans to develop printing technology education and to set up research institute in printing during the fifth plan period The plans and proposals were all approved b)y both the Applied Art Board, and All India Council for Technical Education in 1973.
1974 : Plans for Restructuring the Diploma Courses :
Give concrete shape to these proposals aguidelines, the Advisory Committee of the Institute at its meeting held in April 1974 unde the Chairmanship of Dr. V. C. Kulandaiswa Director of Technical Education, constituted a sub-committee for restructuring the Diploma
Courses, curriculum of studies and examination schemes and revision of syllabus.
The sub-committee consisted of three members representing the industry :
Mr. R. Venkateswaran, Mr. T. V. S. Manian, and Mr. V. Sethuram, with the Principal as the convener/secretary. The sub-committee's recommendations, with regard to the restructuring of courses, were approved by the Advisory Committee and accepted by the Director of Technical Education for immediate implementation.
1975-76: New Schemes and Innovations – Semester Pattern :
The 1975-76 session saw another major change in the structure of the Diploma Courses. On the recommendation of the Advisory Committee, the Full-time and Part-time Diploma Courses were restructured into Semester pattern and the entire syllabus, curriculum and examination scheme were also thoroughly revised to fulfil the modern needs of the industry. Question Banks for all subjects were also introduced along with internal assessmnent as part of the examination reform.
The part-time Diploma Course which was offive years duration for nearly thirty-five years was reduced to four years or eight semesters extending the duration of the classes each year.
In January 1975, the name of the Institution was changed as lnstitute of Printing Technology (Southern Region) by a Government order in response to the request of students and staff.
1976-77 : Introduction of Sandwich Course:
At the beginning of the 1976-77 session the Full-time Diploma Courses of six semesters were converted into Sandwich Courses of seven semesters, i.e., three-and-a-half years. This was made possible by the introduction of Apprenticeship (Amendment) Act of 1975. The first batch of Letterpress Sandwich students were assigned placements in Tamil Nadu Government Press to serve their apprenticeship for one semester of six months, from June to November 1976, with a stipend of Rs.150/- per student, per month.
This Institute is the first in India to introduce production-cum-training, sandwich pattern, semester system, examination reformn and question bank for printing technology diploma courses, the highest qaulification in this field then available in India, in the country with a history of 50 years (1976) to its credit.
Thiru V. S. Krishnamurty, who pioneered these innovations and new schemes, during his period of Principalship from 1972, retired on reaching superannuation, on 30th April 1977, after serving the Institution as a faculty member, for 31 years and two months, the longest on record for a printing technology teacher in India.
Thiru K. Mohan Rao, Head of Section, took over charge as Principal.
1977-78 : Golden Jubilee Celebration :
In 1977, the Institute completed fifty years of its existence and entered its 51st year. Plans to celebrate the Golden Jubilee during 1977-78 could not be implemented for certain unavoidable reasons. Finally, the Golden Jubilee was celebrated on Thursday, 29 th March 1979. Thiru C. Aranganayakam, then Minister for Education, Government of Tamil Nadu, presided over the function.
An exhibition depicting the early history and development of printing in India fully and solely prepared by Mr. R. Narayanan (former full-time faculty member, now, printing cousultant) and an exhibition of printed products which were presented national awards for excellence in printing by D.A.V.P., New Delhi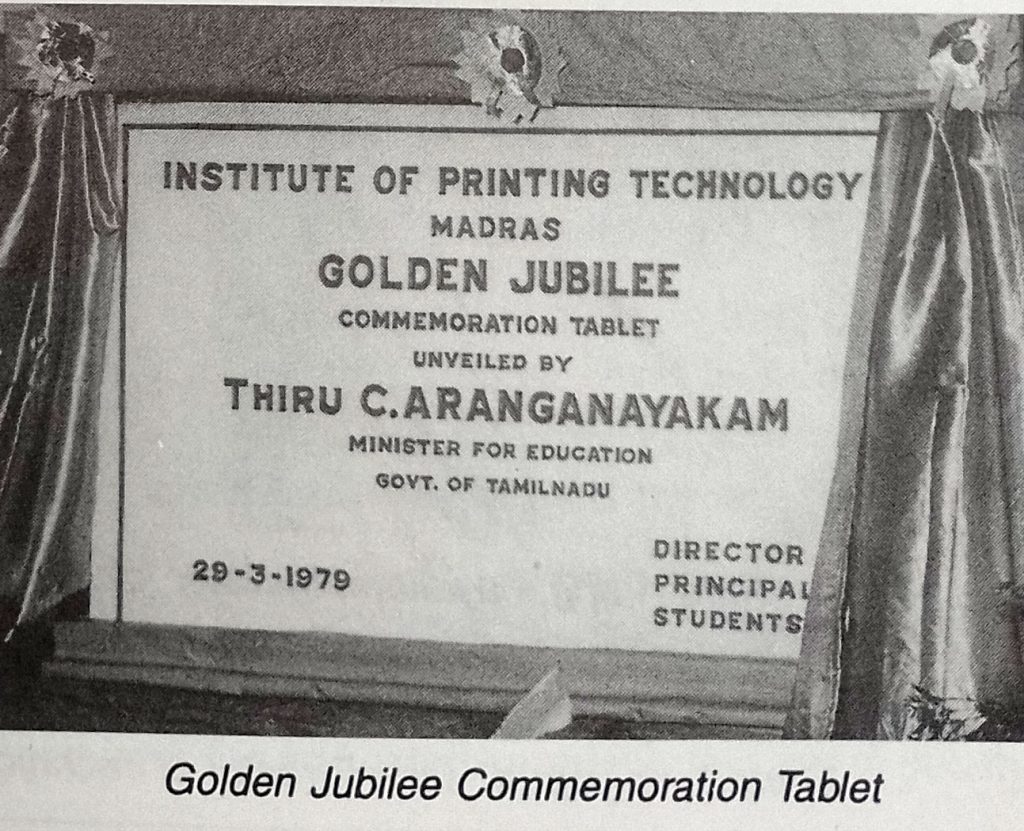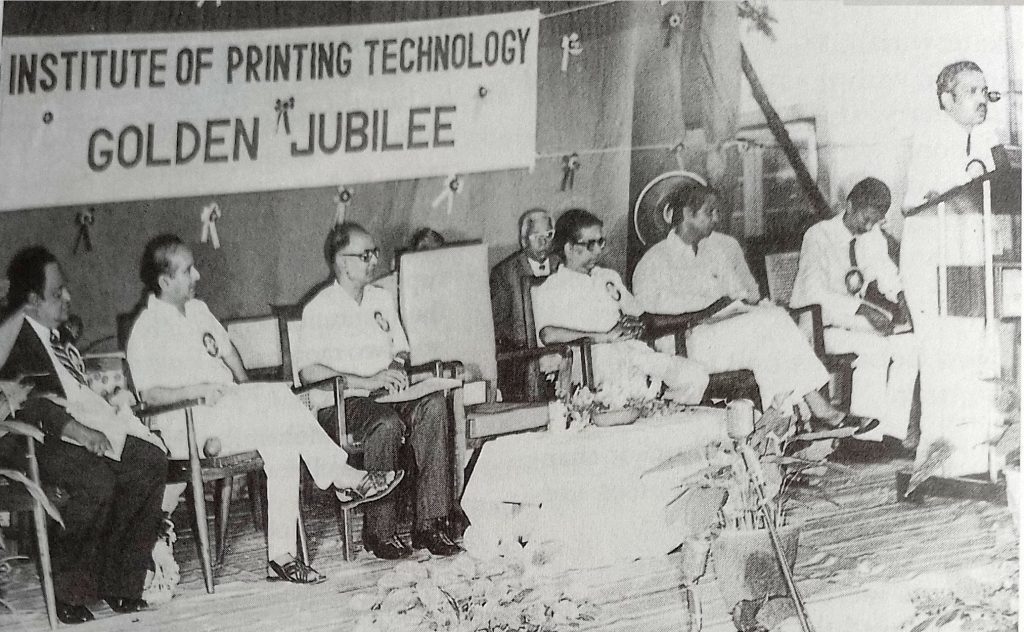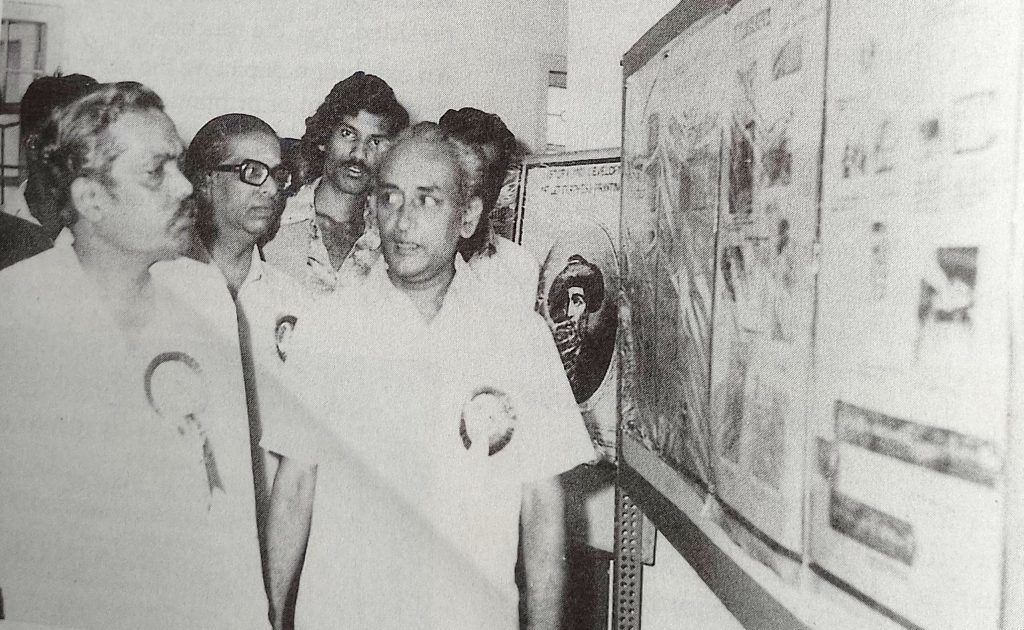 Education Minister Thiru C. Aranganayakam delivering Presidential Address in March 1979.
Thiru Aranganayakam, Minister for Education, Government of Tamil Nadu during Golden Jubilee Celebration (March 1979) at the Exhibitation of "Early History and Development of Printing in India" is seen with Thiru R. Narayanan, creator of this exhibition, Thiru S. Vaiyapuri, then Director of Technical Education is seen next to the Education Minister.
and an open house' to show the working of all the machinery and equipment by the students were organised on the occasion. These were inaugurated by Thiru E. C. P. Prabhakar, LA.S., Commissioner and Secretary to Government Education Dept., Government of Tamil Nadu.
1981 : Part played by the lnstitution with All India Printers' Conference and Pamex 81 :
In 1981, it was the privilege of this Institute to associate itself with the 20th All India Printers Conference and Exhibition, and Pamex 81 which was conducted in the Campus of this Institute from 18th to 24th January 1981.
This fact proves our closer collaboration with the industry which is always cordial and happier.
1986-87 : Last group of Sandwich Diploma Course System of Education :
From the time of introduction of Sandwich System in 1975-76 till 1986-87, 12 groups of both Letterpress and Lithographic students underwent one year industrial training in two phases during their course of three-and-a-half years' study. These students where very much sought-after by the Industry for employment, and the last group that admitted was in 1986-87 session.
1987-88: Introduction of Integrated Diploma Course in Printing Technology :
In 1987, the Sandwich Courses were restructured as per the requirements of the Industry on the recommendation of All-India Federation of Master Printers, New Delhi.This new scheme of course pattern was initiated by K. Mohan Rao, then Prinicipal.
The Sandwich Diploma Courses in Printing Technology once again became a full-time course of three academic years, out of which, first half of the third year, i.e., six calendar moths from June to November, was a period of'industrial exposure'.
The course was an integrated diploma course, ie., first two years was a common study of the basics of printing technology covering Letterpress, Offset, Gravure, Flexography and Screen Printing and the third year was
Educatioon is a conquest,
not a bequest;
it cannot be given or bestowed;
it must be achieved.
The value of an education lies
not in its possession,
but in its struggle to secure.
* Elbret Hubbard
specialisation' in any one area or stream of the printing technology. For the purpose of broad specialisation, the whole spectrum of printing was divided into three streams and the candidates were allotted with a particular stream to specialise in the third year to gain a deeper knowledge of the stream. Three streams were (i) Prepress Operations, (iü) Presswork and Finishing, and (ii) Printing and Packaging.
Second half of the Third Year was an Institutional study in Theory and Practicals on the allotted stream of specialisation for a period of 16 weeks.
1988-89:
Mr. M. N. Subramanian, then Head of Section was promoted to take charge as Principal on 31st May 1989 on retirement of K. Mohan Rao, who was on re-employment during the academic session from July 1988 to May 1989 after his superannuation retirement.
1989 : National Service Scheme:
A unit of National Service Scheme started functioning in the Institute of Printing Technology since 1989 under the leadership of Mr. S. Sellaraj, Physical Director of I.PT.
In 1995, Mr. A. Ramasubramanian took charge as NSS Programme Officer. And in July 2000, Mr. G. Ilamaran became NSS Programme Officer and continues to hold the office Varieties of social welfare programmes were conducted through NSS. In December 2000, special technical training programme was organised for educated-unemployed rural youth
in three trades (1) Screen Printing, (2) Book Binding and (3) Data Entry Operation. More than fifty rural youths participated in this training course.
In February 13th, 2001 a Blood Donation Camp was organised through NSS and eighty units of blood was collected. NSS Award Function was conducted in 21st March 2001. Certificates and prizes were distrilbuted to NSS student-volunteers who have completed 2 years service in NSS.
In December 2001, a Special Camp on "Youth for Greenery" was organised for NSS Volunteers at Injambakkam : Road formation, Cleaning the villages, Tree planting Technical training to rural youth, Medical camp, Mass literacy programmes, Aids awareness programme, were all carried out during this Special Camp period.
National Youth Day Seminar was organised in grand manner to mark the Platinum Jubilee Year of the Institute of Printing Technology under the auspices of National Service Scheme, Directorate of Technical Education.
On 27th February 2002, Blood Donation Camp was conducted. Printing Technology Students and Students from other institutions participated in this Camp.
It is gratifying to note that NSS Student-Volunteers were participating in all the social activities with enthusiasm, without any expectation, sacrificing their time, energy and caring only for the welfare of the down-trodden village folks.
1995-96:
On super annuation retirement of Mr. M. N. Subramanian on 31 May 1995, Mr. M. P. Gopalakrishnan, then Head of Section took charge of principalship on 1st June 1995.
Short-term Certificate Course Under the World Bank Project, a continuing education programme, a 12-week Short-Term Certificate Course on "Offset Printing" was conducted between 29th January and 22nd April 1996, at the Institute premises. Course syllabus covered fundamental knowledge of all the various printing processes, areas of immaging system, paper, ink, etc.
the course had a good mixture theoretical instructions and extensive practical training. The course hada good mixture of theoretical Since the course was mainly meant for tho who have no opportunities to know the late trends in the offset printing- Iwenty-four participants were enrolled for this course, and among them were proprietors of the presses, employees of leading printing houses, personnels from the machinery dealers, etc.
1996-97:
On reaching superannuation, Mr. M. P. Gonla krishnan retired on 31st May 1997, Mr. A V Balaraman, then Special Temporary Head of Section, took over as Principal in-charge.
1997-98:
Selvi K. S. Babai, Principal, Dr. Dharmambal Polytechnic for Women took over additional charge of Principalship from 1st July 1997.
After the retirement of Mr. A.V. Balaraman, MrV.R. Mani, Special Head of Section took charge of academic work of the Institute and later became Vice-Principal and retired on 31st May 2000.
1998-2000 :
A sum of Rs. 94,585 was sanctioned for the purchase of Library Books for the exclusive use of S.C./ S.T. Students by the Adi Dravidar Welfare Department, for the two-year period (1998-2000). Thiru M. Anbazhagan, a faculty member was in-charge of this schemne and S.C./ S.T. candidate are given books for study purpose during the academic sessions which were returned after completion of every semester.
1999-2000 : New Pattern – Common Syllabus:
for First Year with other Diploma Courses In 1999-2000, Government of Tamil Nadu introduced new syllabus, in common with all Diploma Courses conducted by the Department of Technical Education in the first year to help our students to undergo higher studies of Engineering Degree Course, i.e., B.E. Printing Technology, conducted by the Anna University. During the next two years of the course student study Printing Technology related subjects.
1992-2000: Under World Bank Project (SPIU) Under the World Bank Project Scheme, the Institute workshops were modernized by adding latest equipments and machineries such as Image setter, Offset machines, PCs, visual aids along with class room furniture to the tune of Rs.1.66 Crores. Subject books were also purchased from Indian Society for Technical Education under the above scheme. Under the Faculty training programme, all the teachers were deputed to industry to update knowledge in their respective fields.
Central Assistance Under the Central Assistance Aid, the Institute purchased Flexo Four-colour Machine and Flexo Platemaking Equipment, DTP unit and Cutting Machine.
2000-2001 :
Mr. P. Alimuthu, took charge from Mr. V.R. Mani on his retirement on 31st May 2000 to look after the academic activities, as Vice-Principal. He was made Head of Section on 18th Jan. 2002.
2002: The Future Before us:
Throughout the last seventy-five years of this Institute's history the printing industry has been closely involved with the advancement of Technology. During the period 1927-1938, 1938-1946, 1946-1955, 1955-1960, 1960-1975, 1975-1987, 1987-1999, and in 1999 important changes in the system of imparting technical education in printing were introduced in response to the varied needs of the industry. We in the institute have thus wholly identified ourselves with the industry.
Yet, there is need far more effective changes to meet the fast changing scene in the Indian which is now developing at a printing industry, high velocity. We are aware that the new century will be the most challenging period as far as our institute is concerned arnd we have to gear ourselves to meet future developments if we want to retain arnd uphold the tradition of being first in every new system of imparting printing education. We are confident and look forward to the continued support and co-operation of the printing industry, loyalty and dedication from the faculty members, and earnestness from our students, future custodians of the industry rise to the occasion and pursue the path of knowledge with concentrated attention, determined effort and dogged perseverance.
With the best of tradition set by our predecessors and with the support extended by a large number of well wishers, we shall greet the unseen future with a cheer and a smile.
Now, this historically-famed Institute has:
completed its 75th year in the year 2001 and plans are taking shape to celebrate the Platinum Jubilee in March 2002 by the Alumni Association of this Institute in collaboration with the Madras Printers' and Lithographers' Association and The Printing Technologists Forum who have been supporting and taking part in all the activities of this Institution.
We can say with pride that Institute of Printing Technology has passed the test with flying colours. For the last seventy-five years I.P.T. has been catering to the needs of the industry. Printers say, "Darn Good Boys", and in Northern part of India, our boys are known as Madras Boys.
Truly, a time-tested truth !
Keep it up I.P.T !